Paint and sketch on the Amalfi and Cilento coasts with a small group of fellow artists.
Unpack your bags only once to stay at Borgo La Pietraia, a modern country inn that overlooks the Tyrrhenian Sea. Our enclosed property is an ideal setting for a creative retreat. Guests will set up their easels amidst the lush Mediterranean trees and flowers and gather together for conversation and critiques overlooking the Amalfi and Cilento Coasts. Any medium and ability level welcome to join the adventure!
Retreat Highlights
Paint in the gardens of the first medical school in Europe, overlooking the Amalfi Coast with accomplished painter Betsy Payne Cook as your teacher.

See the 3,000 year old temples at Paestum, a UNESCO World Heritage site which was a favorite stop for writers and artists on the Grand Tour of Europe.

Visit the protected Cilento coast and the town of Borgo Castellabate, a UNESCO World Heritage site, named one of Italy's most beautiful villages.

Explore the Cilento National Park with a local guide who will lead you through the ancient sheep paths between the villages of Capaccio and Trentinara, then have a 0 Kilometer lunch at Fattoria Cavallo,

Learn to cook from a Baronessa on her buffalo farm and paint her rose garden.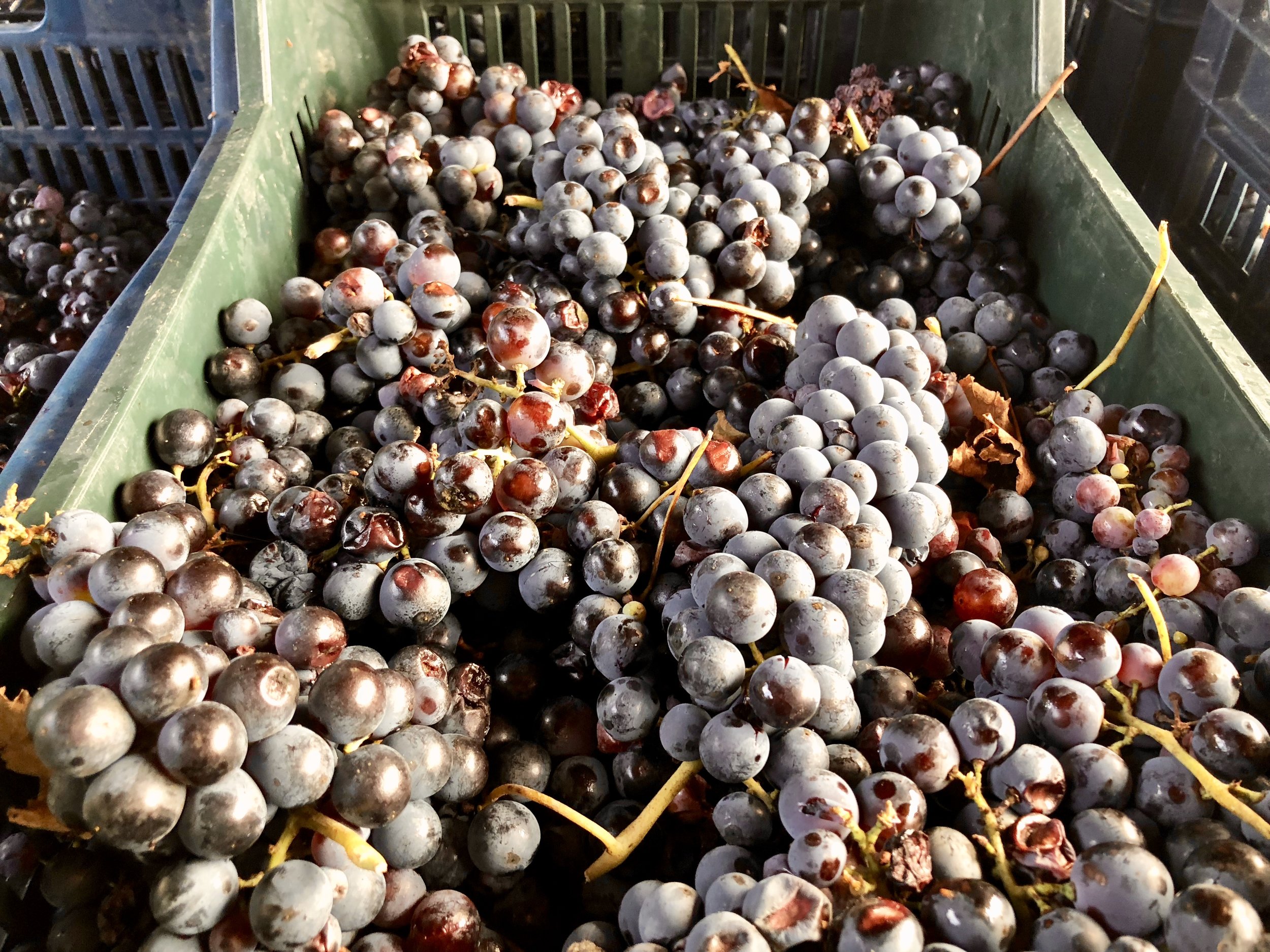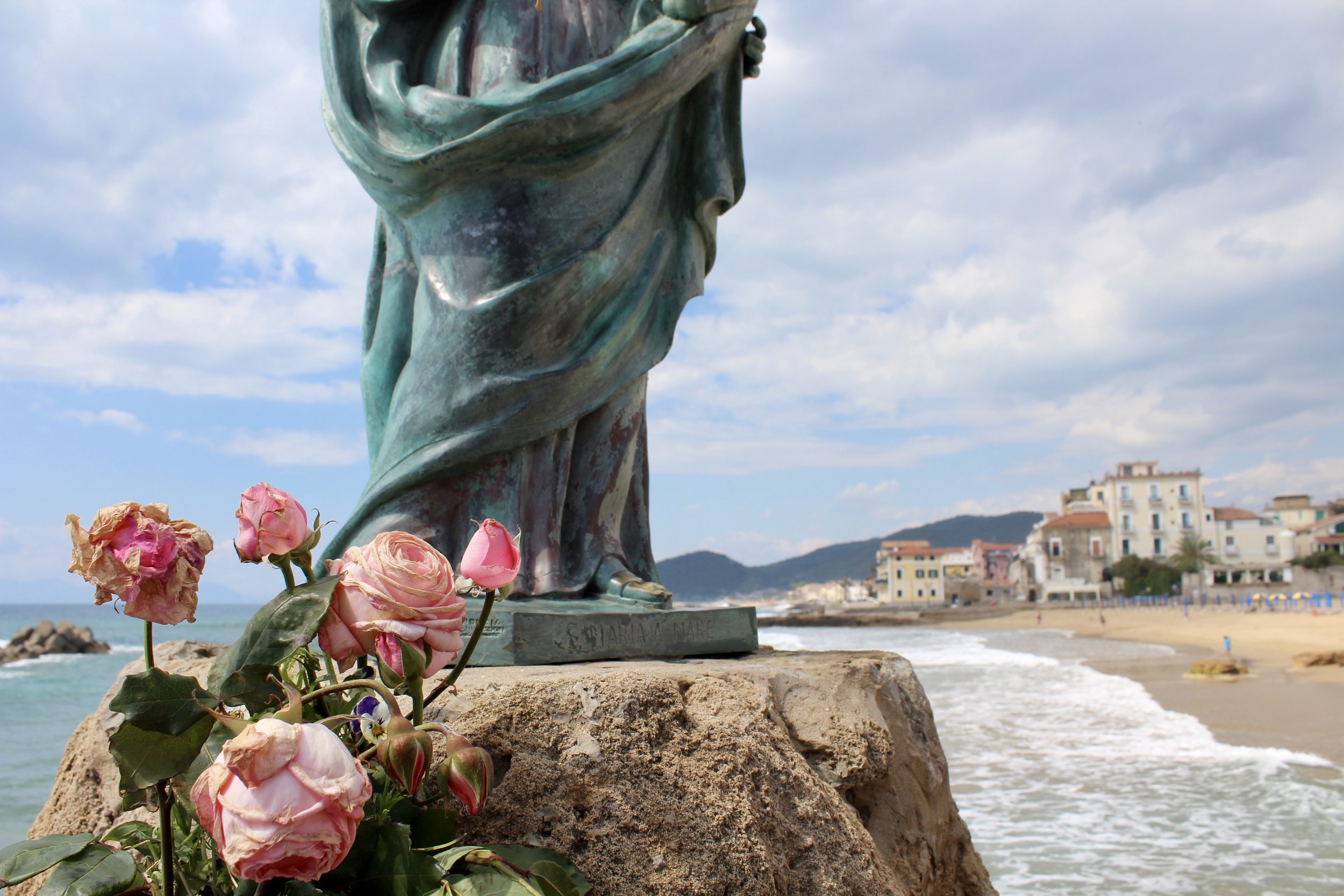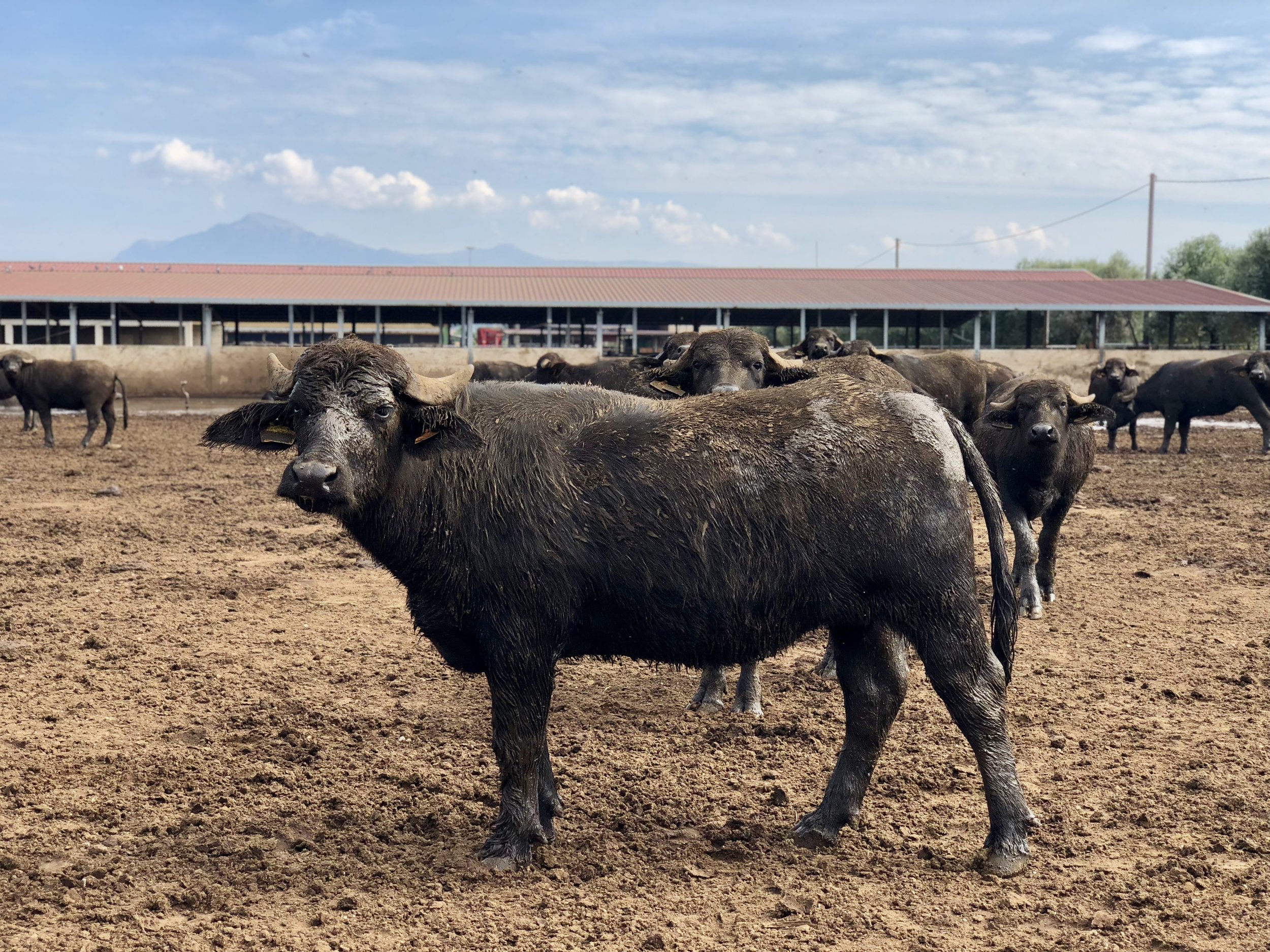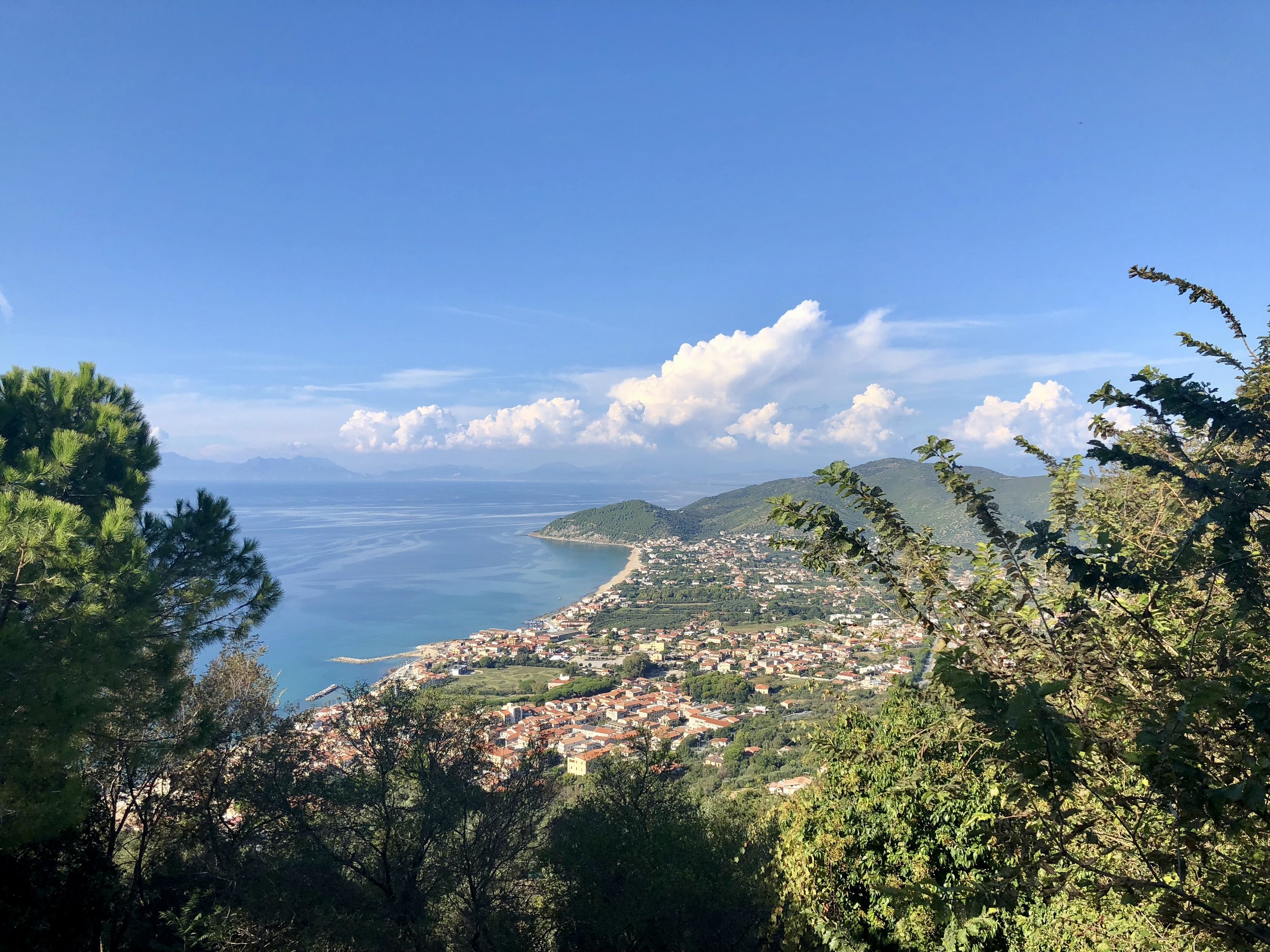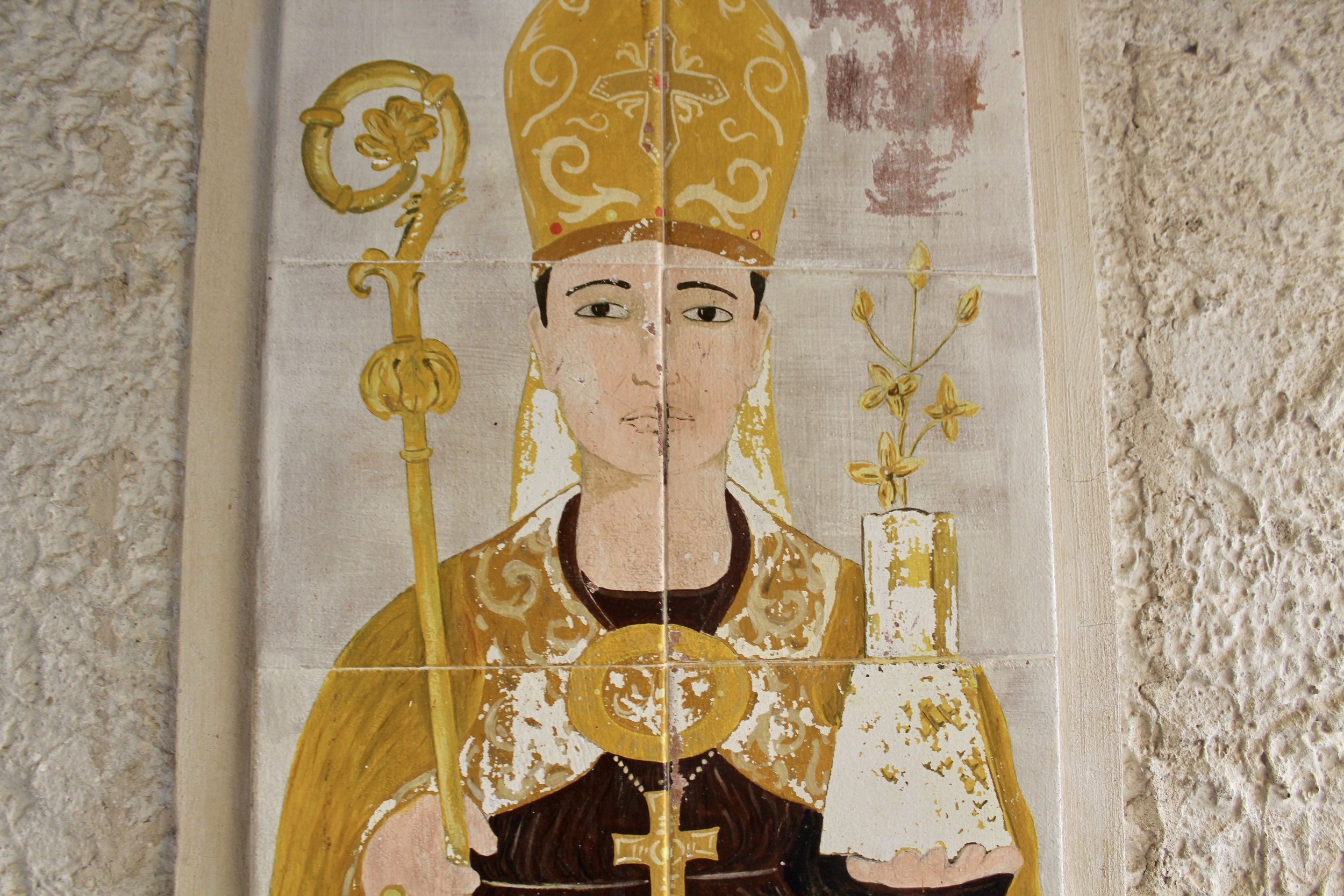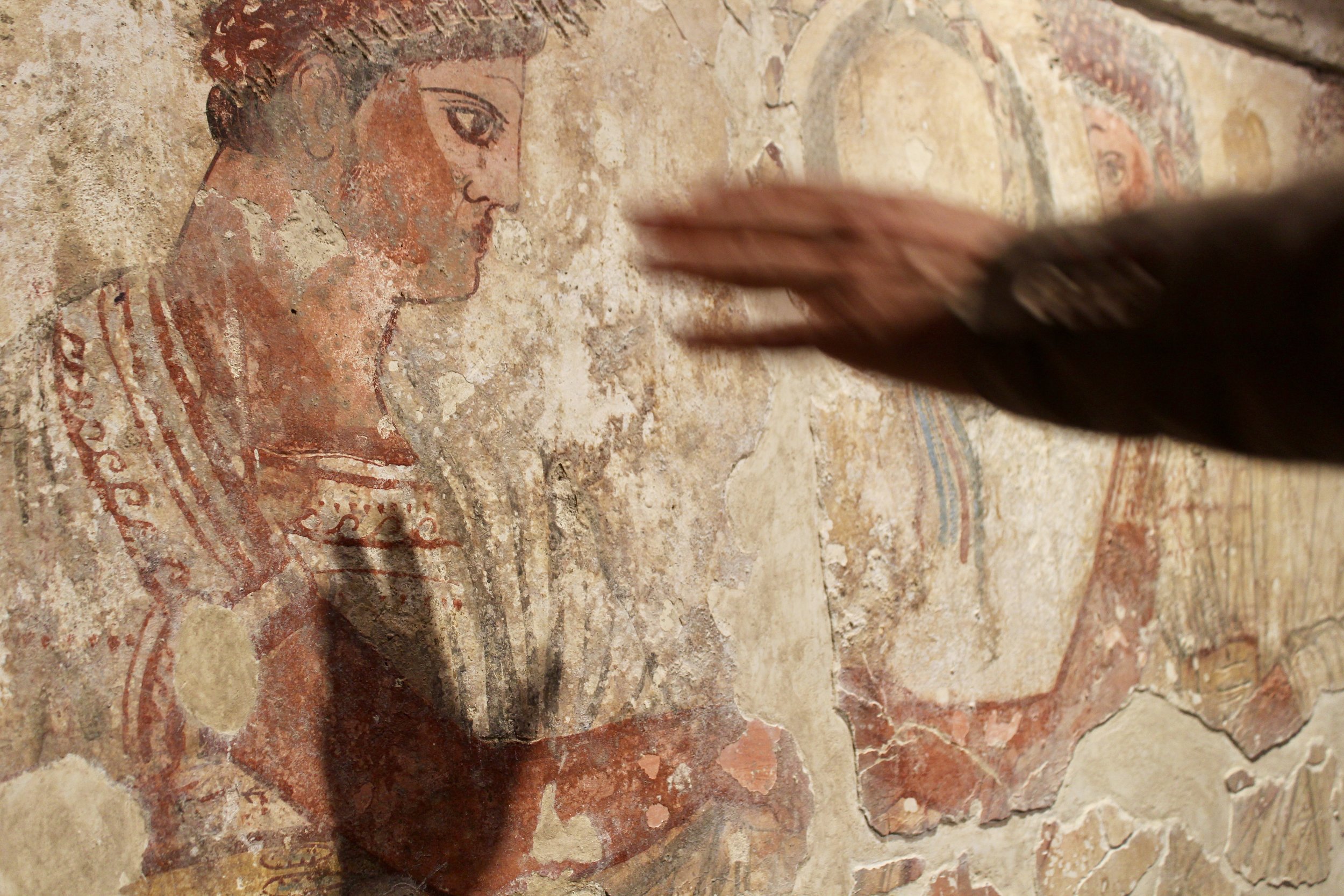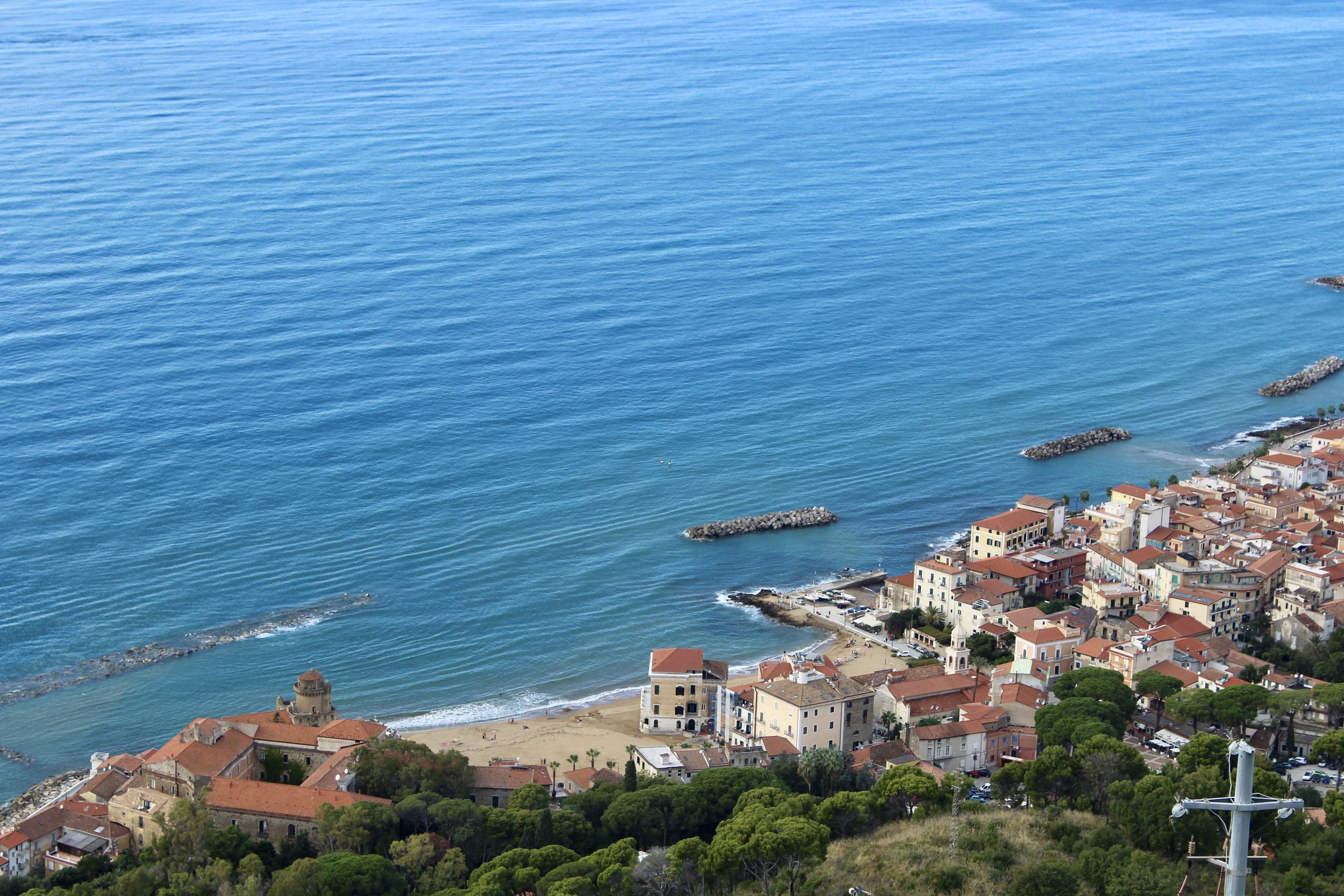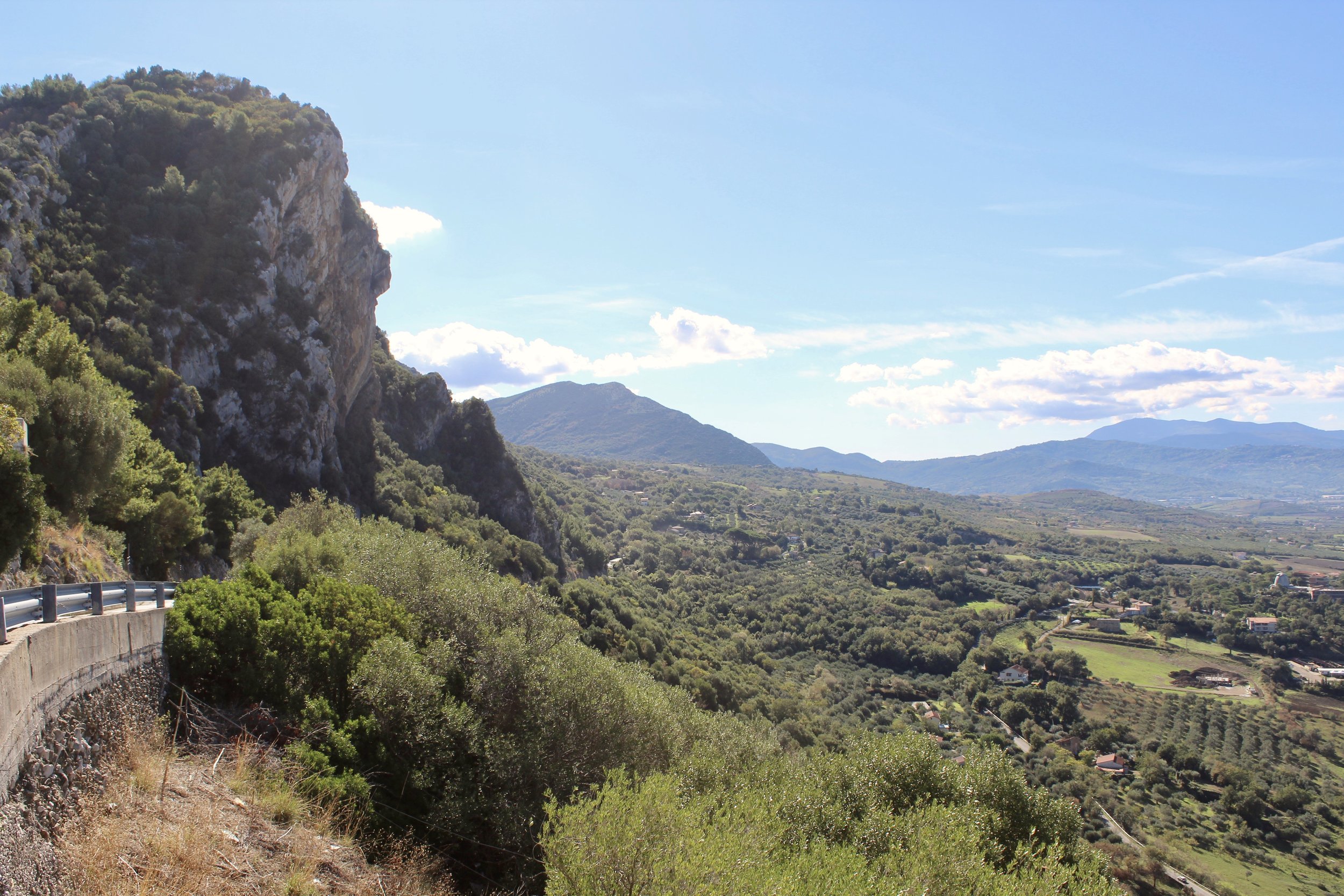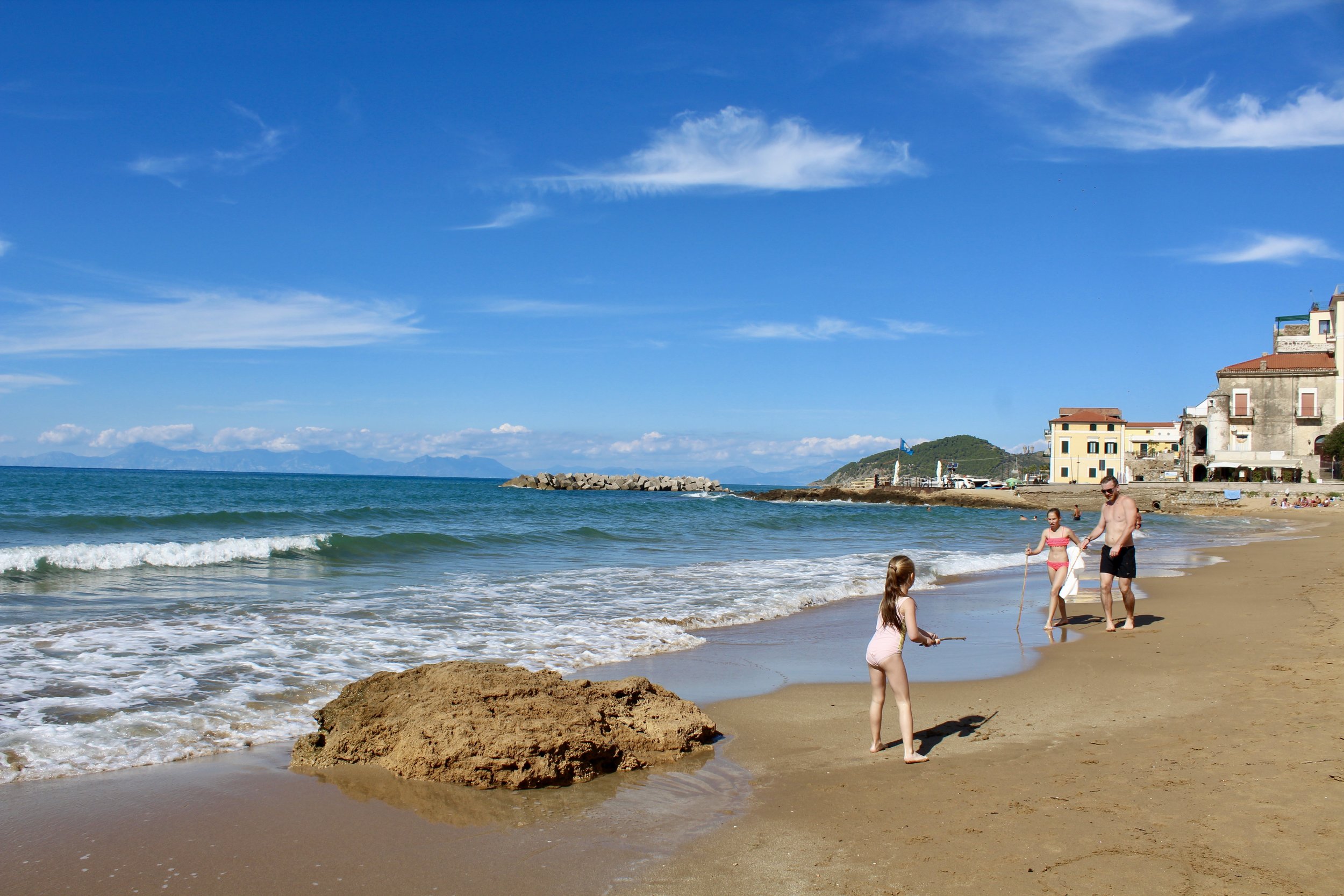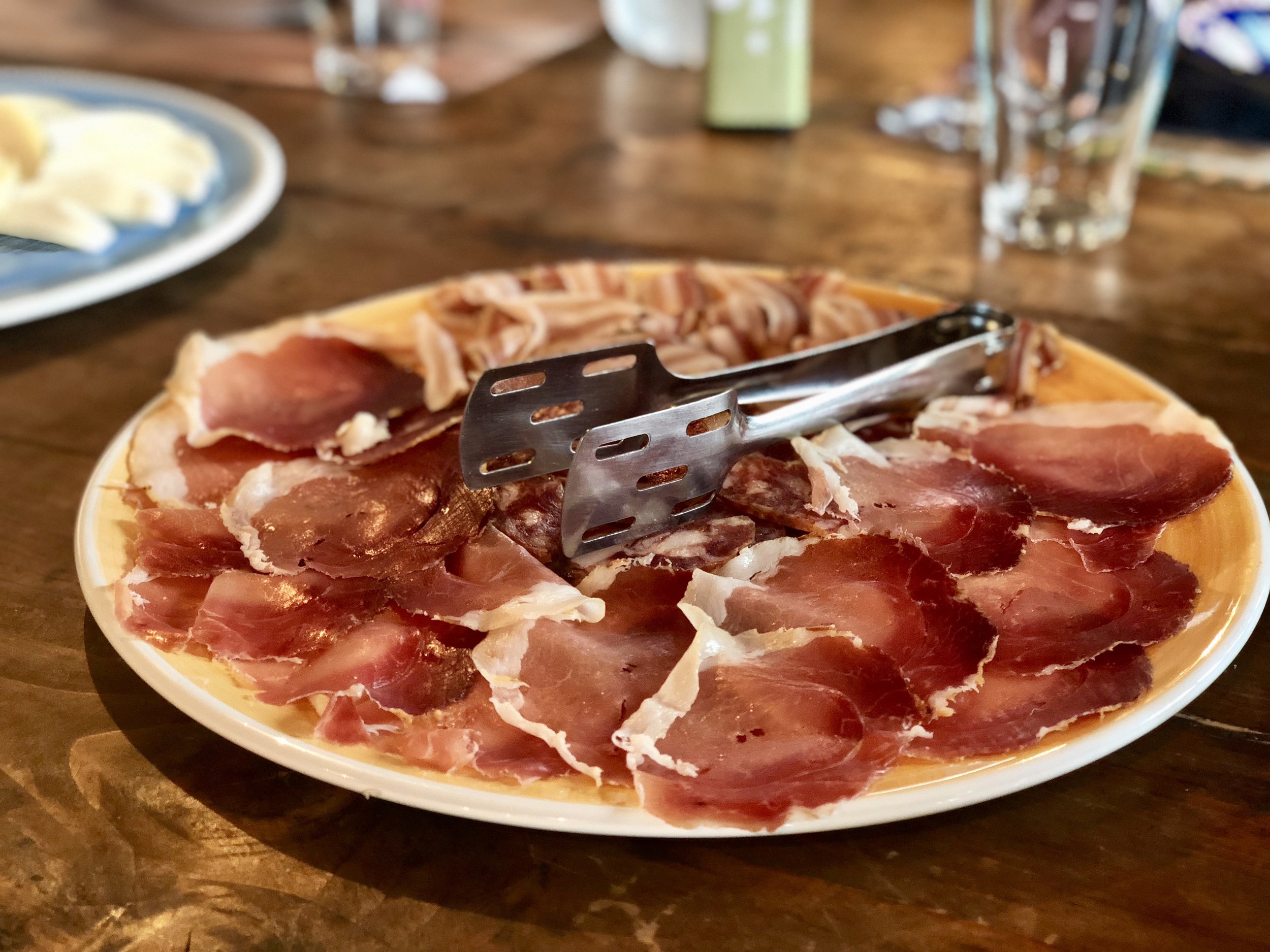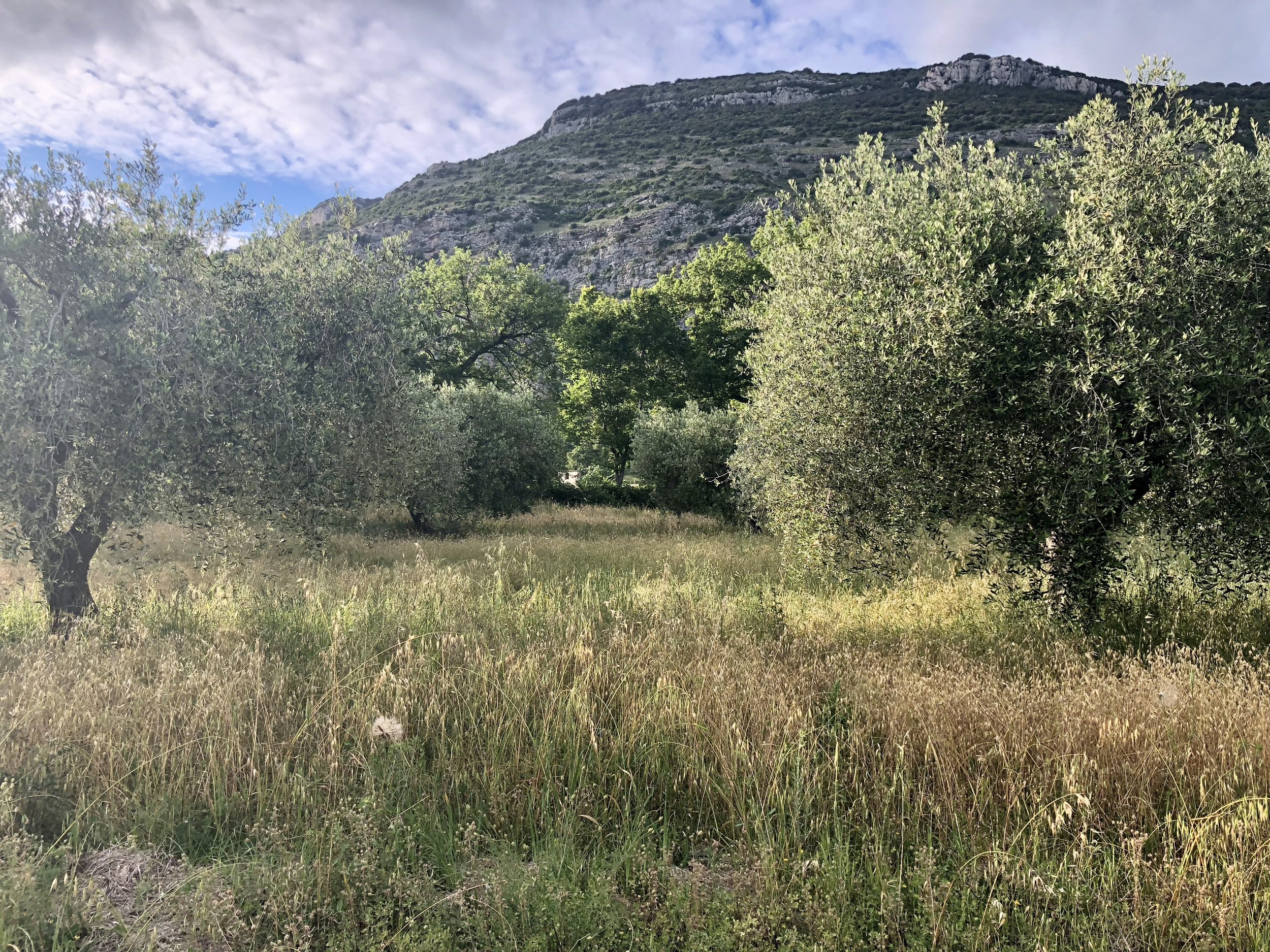 Accommodations
Borgo La Pietraia enjoys a majestic panorama of mountains and sea stretching from the Sorrento peninsula to the Cilento coast. The buildings and terraces are all built from local stone, making the property feel as though it grows organically from the landscape, in complete harmony with nature. It is a true paradise insulated with pomegranate and olive trees and scented by hedges of bay leaves, rosemary and other Mediterranean herbs and flowers. The restaurant on property called FOOD is led by chef Mario Stellato, formerly of Michelin-starred Marennà. Everything served at FOOD is organic, locally grown, and utilizes the best of the season.
All rooms have:
En suite bathrooms with luxury showers, a heated towel rack and a bidet

Private terrace overlooking the Tyrrhenian sea with table, chairs and a lounge chair

Air conditioning and heating units that can are set by the guests

Hairdryer

Mini-fridge

Flat screen television

WiFi
You'll have your own private bus and driver for the week that seats up to 25 guests. We'll meet you in Naples at either the airport or train station and transfer to Borgo La Pietraia, about a 1.5 hour drive. From pickup through drop off, the tour you'll have two English speaking guides (Danielle Oteri and Jessica Scranton) and Betsy Payne Cook as your painting instructor.
This itinerary is an overview. Variations in activities may occur as we explore Italy with our paint brushes.
Day 1: Welcome to Cilento
Arrive in Naples airport or transportation, driver pickup, travel to Borgo La Pietraia, by 2pm. Introductions and a toast to open the tour at sunset, followed by a 5-course tasting menu at FOOD, the property's restaurant.
Day 2: Grand Tour of Paestum
Spend the day at the ruins of Paestum, one of the most important stops on the Grand Tour. The day will open with a 2 hour guided tour of the archaeological site and museum including the vaults to see the painted tombs from the 3rd century BC. The rest of the day is dedicated to painting outside. Guests may have lunch independently as the restaurants directly across the street from the ruins.
After a rest back at the hotel, we'll drive just 5 minutes up the hill to the medieval town of Capaccio for a tour of the village by the town historian followed by dinner in the piazza, overlooking the sea.
Day 3: Cilento Coast
Spend the morning shopping and strolling along the beach at Santa Maria Castellabate on the Cilento Coast. In the afternoon we'll drive to Borgo Castellabate, a UNESCO World Heritage site for an afternoon of exploring the medieval streets and alleys for painting.
At dusk we'll transfer to Agropoli for the evening paseggiata through the modern town center (for shopping) up to the medieval castle where guests may have dinner on their own.
Day 4: Cook with the Baronessa
Spend the morning learning to cook on the buffalo farm of Baronessa Cecilia Bellelli. After feasting on your hard work, enjoy free time to sketch in her rose garden. Betsy will hold a group critique for those interested.
The evening meal will be at San Salvatore 1988, an organic wine producer with a wonderful restaurant with dishes all made from products grown on their property to promote bio-diversity.
Day 5: Salerno and Amalfi Coast Artisans
Visit the medieval herb garden planted among the ruins of 12th century medical school in Salerno, the first medical school in Europe. After a short tour, spread out to paint with views from the garden overlooking the Amalfi Coast.
In the afternoon we'll transfer to nearby Raito, a town of ceramics artisans to visit painters in their workshops. Evening stroll and dinner in Vietri-sul-Mare.
Day 6: Relax
Free day to relax on the property. We can also help guests arrange excursions if they wish. There will be a still life presentation by Betsy for those who wish to remain on property.
Day 7: Cilento Villages
Enjoy a light hike between Capaccio and Trentinara, two medieval villages nearby Borgo La Pietraia. Have a 0KM lunch at the farm called Fattoria Cavallo and set up your easel among the animals and olive trees.
After sunset we'll have a closing dinner at FOOD.
Day 8 Arrivederci
Depart Borgo La Pietraia at 10am for Naples. Before leaving we'll stop at the Sanctuary of the Madonna of the Pomegranate for one last look at this beautiful countryside.
Arrival and departure details
Most international flights arrive and depart from Rome Fiumicino. Naples is one hour from Roma Termini train station via the Frecciarossa. (The fast train.) Additionally, there are many flights daily arriving at the Naples airport, a small and excellent regional airport. Many past guests traveling from the southern and midwestern United States fly direct to Amsterdam or Paris than transfer to a second flight to Naples.
Guests should plan to meet the group at the Naples train station (Napoli Centrale) at noon on the first day of the tour.
On May 3rd our transfer to Naples from Borgo La Pietraia leaves at 10am. The drive is approximately 2 hours though we will likely stop once for a bathroom break. Flights leaving Naples airport should be scheduled for the late afternoon. Flights from Rome should be scheduled for the following day.
Guests interested in exploring Naples may also wish to join The Kingdom of Naples tour hosted by Danielle Oteri/Feast On History from May 7-12, 2020.
Program Rate
$3,850 per person, double occupancy
Single supplement $1010
Early Bird Special: $3490, ends September 15, 2015. Use code EARLYBIRD at checkout.
Price includes:
Breakfast daily of coffee/tea, fruit, yogurt, sliced meat, cheeses, pastries. Eggs are available for an extra cost.
5 dinners and 2 lunches with two glasses of wine per person at each group meal

All ground transportation via private coach

All guides and translation

All entrance fees, tours and cooking class

Transfers from Borgo La Pietraia and Naples airport or train station

Taxes, service charges and gratuities
NOT INCLUDED IN RATE
Art supplies, easels and materials are not included. A group meeting will be scheduled to review how to plan and pack art supplies for travel.

Mixed drinks, cocktails, additional wine

International airfare

Mini-fridge charges or room service

Trip insurance
Questions? Contact Jessica at jessica@renegadetravel.us

Hosts
Betsy Payne Cook has painted exclusively in pastels for the past 20 years, creating a portfolio of both plein air and studio paintings filled with color and texture that enliven the personality of her landscapes, seascapes and village scenes. Her pastel plein air set-up travels with her and she has an ever evolving collection for her solo show "Traversing the Atlantic: Travels with my Pastels" which includes paintings completed on location in the northeast and in Europe. Betsy leads groups of artists on plein air classes and workshops on Cape Cod, a favorite is a day out marsh side in the Sandy Neck Beach dunes. She organized a successful destination plein air workshop in Cardiff Wales, Great Britain where she lived for nine year; and is excited to be planning an artist's workshop in Italy for 2020. Her goal is to integrate painting locations with the culture, history and food of her painting destinations.
Jessica Scranton is the founder of Renegade Travel. She creates itineraries for artisans and businesses that are doing meaningful work and want to showcase their efforts.
Jessica is partnering with Betsy Payne Cook and Feast on History to manage logistics, payments and guide this amazing journey. She will be your point contact for this trip.
Jessica co-owned a travel company for six years before branching out to create Renegade Travel Company. She guides groups through countries like India and Ecuador. And, she custom curates trips for private clients and group excursions.
She considers herself a renegade artist. For the past 15 years she has been a professional photographer working in remote areas of the world for clients like Smithsonian, Conservation International, Johnson and Johnson, etc... She has worked in places like Democratic Republic of the Congo to the Tibetan Amdo Region of China. Her passion for travel, photography and human connection led her to create this company.
Jessica is your point contact for this trip, please email her with any questions: jessica@renegadetravel.us. She can't wait to meet you in Italy!
Danielle Oteri is the founder of Feast On History. She is an art historian and expert on the Renaissance in Naples. She worked at the Cloisters for fifteen years and has written about food, art and travel for Condeè Nast Traveler, NPR, Grove Dictionary of Art and many others. Danielle has been hosting tours at Borgo La Pietraia since 2015.