About Us
Feast On History helps travelers uncover the treasures of the Campania region of Southern Italy. You've certainly heard of Pompeii and the Amalfi Coast, but we take you deeper and away from the big tour busses — to the Royal Palace at Caserta, to the vaults of the museum at Paestum, to beautiful Castellabate on the Cilento coast, the award-winning vineyards of Irpinia and through the fascinating alleyways of Naples.
Feast On History has been featured in:
Past guests include first-time visitors to Italy as well as those who have been to Italy many times. Our guests seek a deeper level of local knowledge and expertise than can be found in guidebooks.
We offer:
Scheduled departures in Spring, Summer and Fall. See our upcoming tours…

Customized private tours for extended families. Borgo La Pietraia, our home base in Italy, can accommodate up to 25 guests. See our Private Tours..

Private customized tours for wine clubs, book clubs, adult schools and other special interest travelers. See our Private Tours…

Custom itineraries for independent travelers
Founders
Feast On History was founded in 2012 by husband-and-wife team Danielle Oteri and Christian Galliani. Danielle and Christian also lead Arthur Avenue Food Tours, small group food tours of Little Italy in the Bronx.
Danielle Oteri is a writer and an art historian. She taught art history at Seton Hall University and was a Lecturer at the Met Cloisters for 15 years. Her publications include Conde Nast Traveler, Roads & Kingdoms and NPR.
Christian Galliani is a sommelier and expert on wine from Campania. He was on the wine team at Del Posto and Senior Beverage Manager at Eataly Downtown's Osteria della Pace. While serving as lead sommelier at Tarry Lodge they won Wine Spectator Award of Excellence for having one of the most outstanding restaurant wine lists in the world.
Our Home in Italy - Borgo La Pietraia
Borgo La Pietraia is an agriturismo built and operated by Danielle and Christian's family in Italy. Private tour clients who wish to travel independently are hosted here by Arianna and Antonio Scariati.
Our logo includes a pomegranate in homage to Hera and the Madonna del Granato, the protectresses of Capaccio-Paestum. The medieval Sanctuary of the Madonna del Granato (pomegranate) is nearby the property while devotional sculptures of Hera holding a pomegranate have been found in the temple grounds at the nearby temples at Paestum.
Borgo La Pietraia enjoys a majestic panorama of mountains and sea stretching from the Amalfi to Cilento coasts, directly overlooking the island of Capri. The buildings and terraces are all built from local stone, making the property feel as though it grows organically from the landscape, in complete harmony with nature. It is a true paradise insulated with pomegranate and olive trees and scented by hedges of bay leaves, rosemary and other Mediterranean herbs and flowers.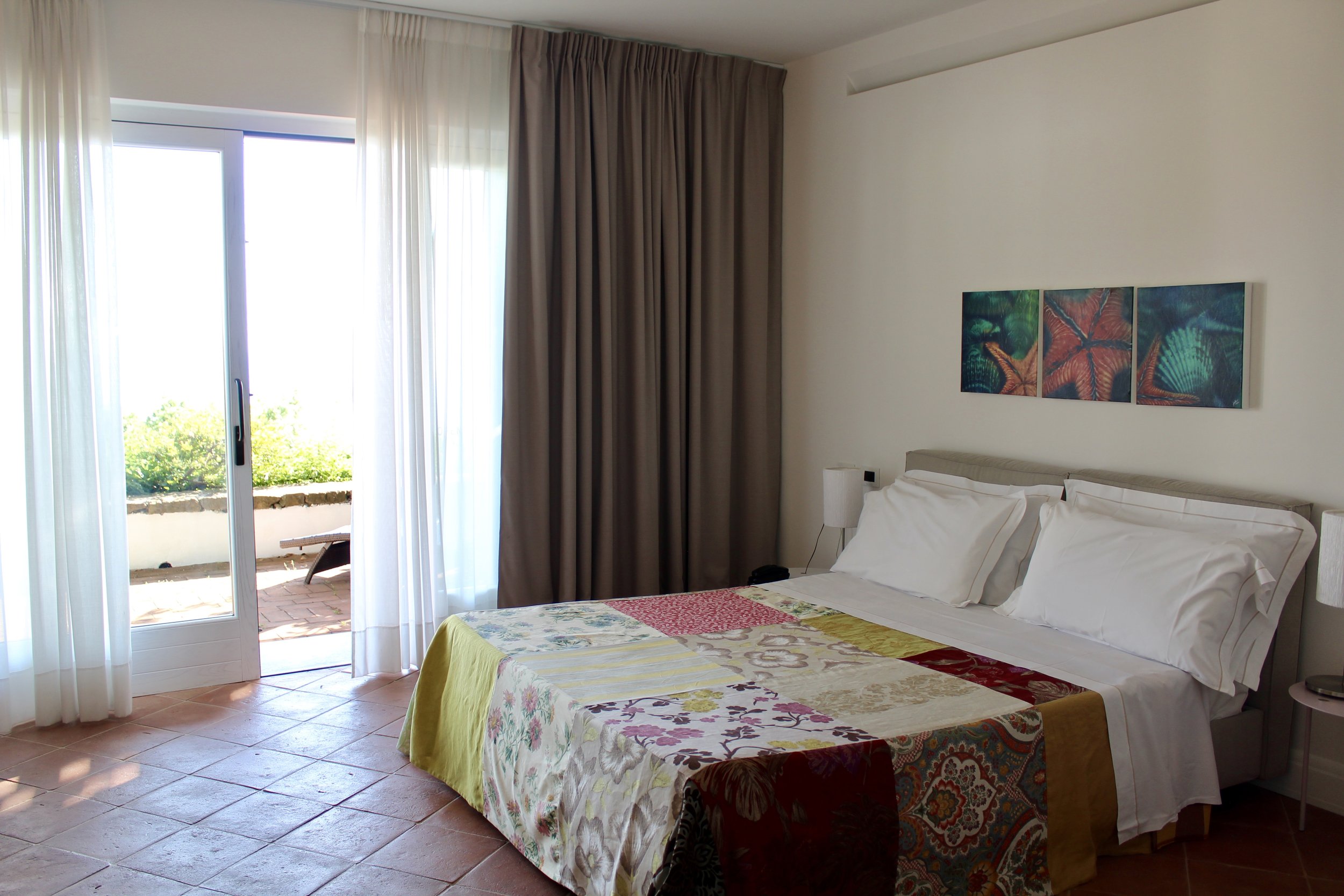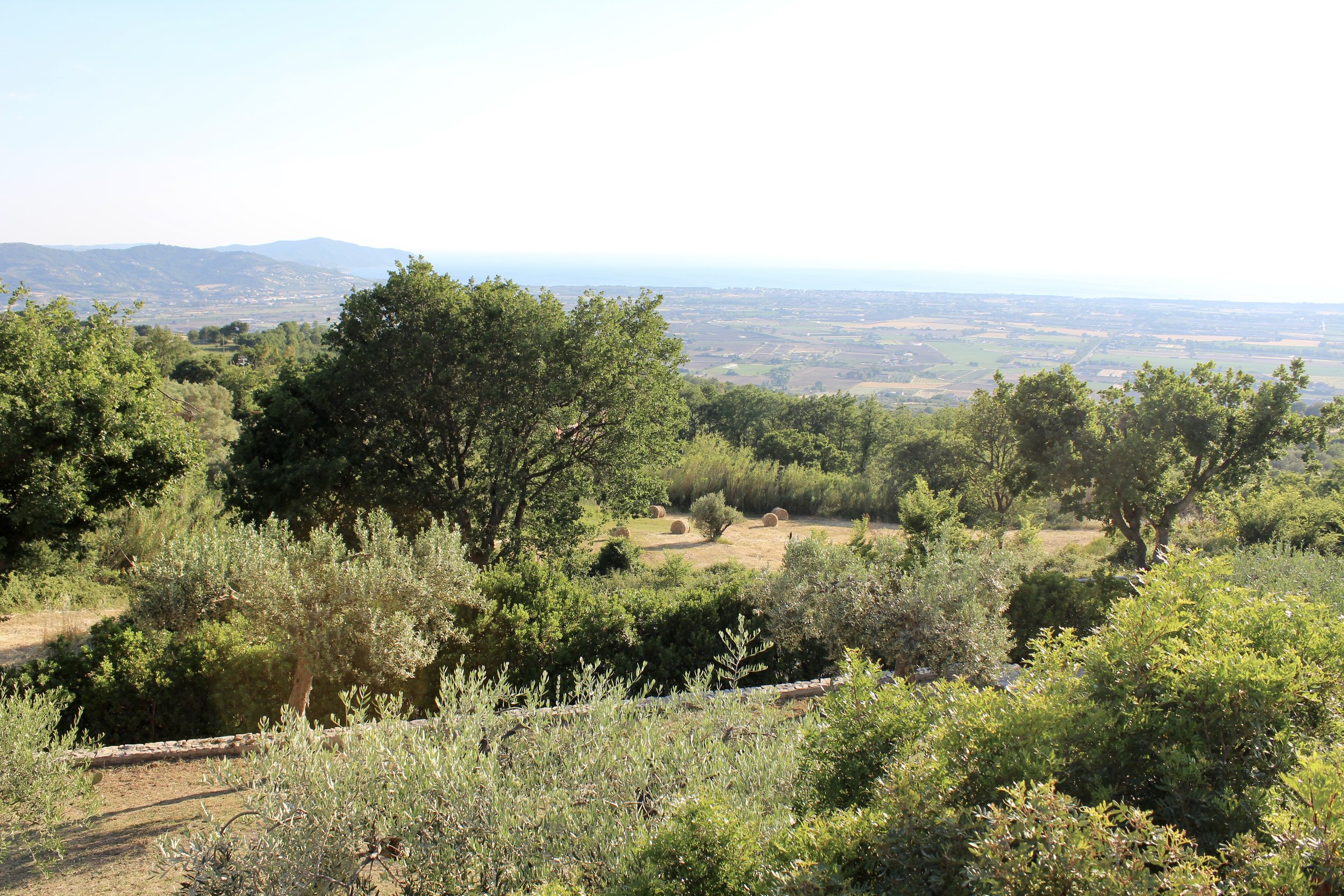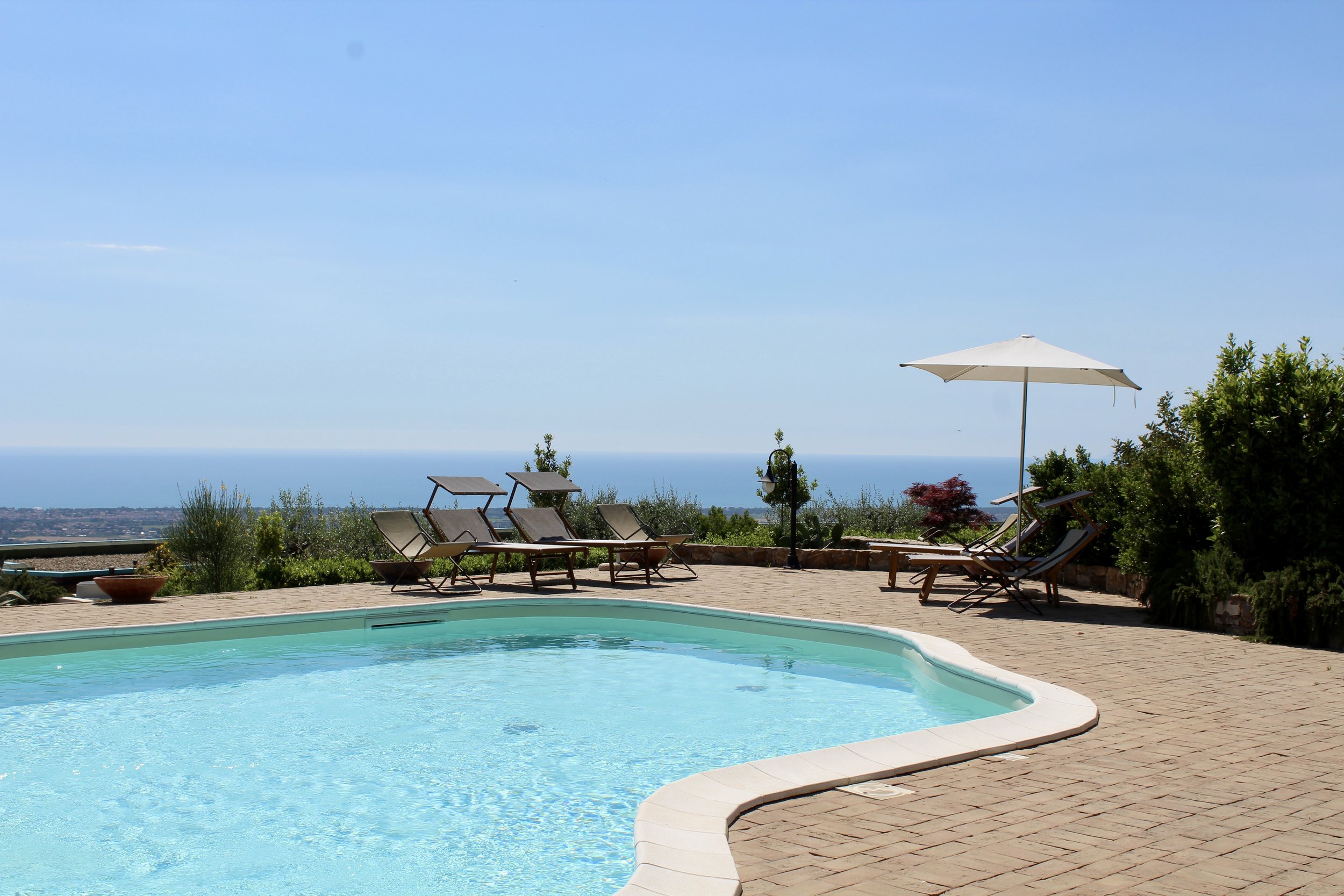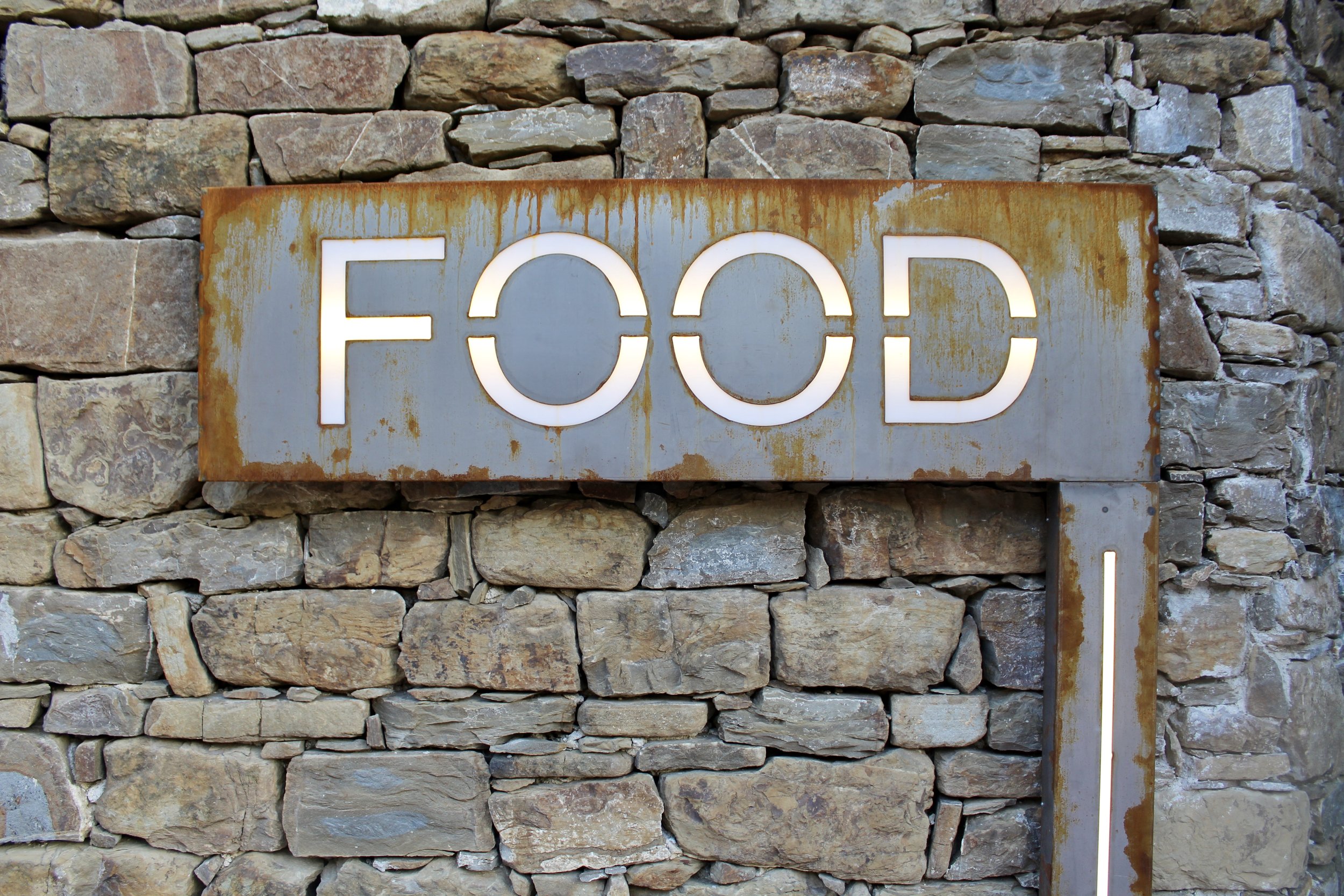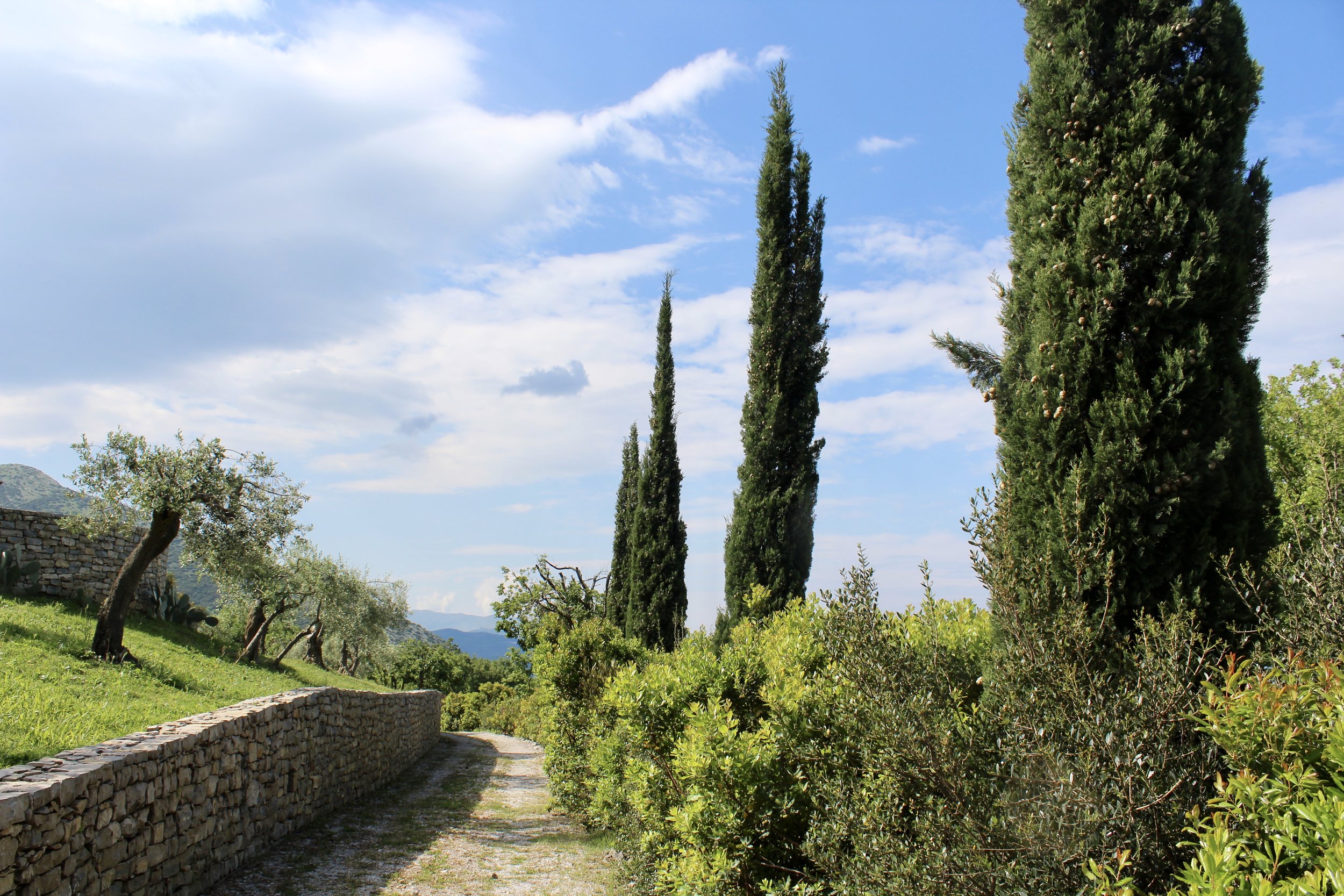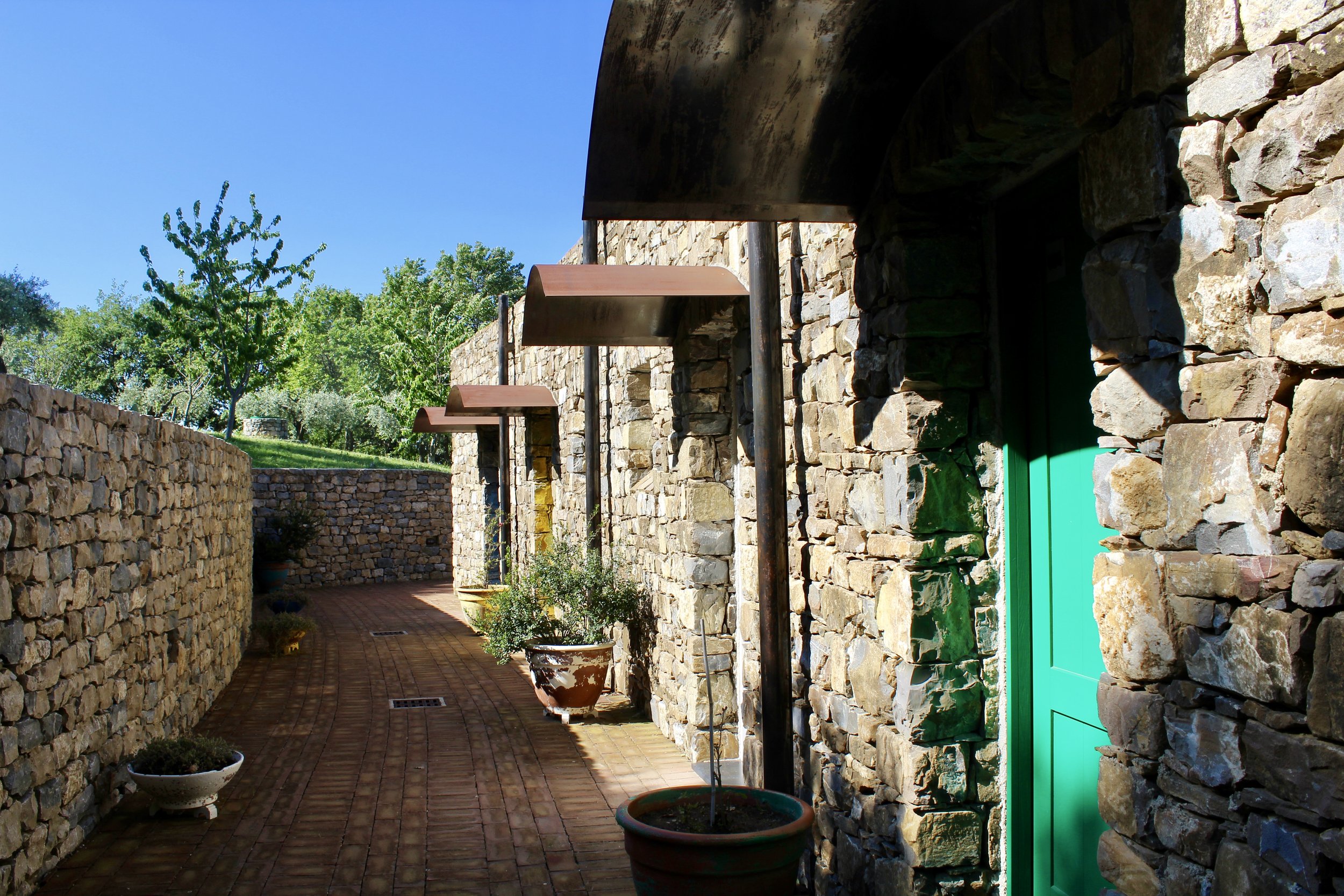 All rooms have:
En suite bathrooms with luxury showers, a heated towel rack and a bidet

Private terrace overlooking the Tyrrhenian sea with table, chairs and a lounge chair

Air conditioning and heating units that can are set by the guests

Hairdryer

Mini-fridge

Flat screen television

WiFi
Borgo La Pietraia also has:
FOOD Restaurant, an on-premises fine dining restaurant serving New Italian cuisine inspired by local products

A swimming pool with sea views open between mid-May and late September

Parking
Would you like to speak to Danielle and Christian now about a tour you're ready to plan? Send a note to danielle@feastonhistory.com and include the best time to reach you by phone.
Are you thinking about traveling with us sometime in the future and would like to get on our email list?